Entertainment
Multimedia Systems / Digital Concert Sound Stereo Systems / Hands Free Digital Connectivity for Games and Internet Connections / Simultaneous Functioning System Programming / All Types of Security Systems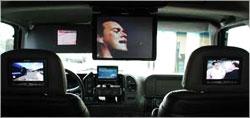 Whether you desire a fantastic concert-sounding stereo in your Aston Martin, a complete multimedia system in your Escalade (or any vehicle for that matter). We know how to do it. And, we know how to do it right.
Security systems come in all forms. From remote starting, to satellite tracking, and even video surveillance. We will customize a system for you.
Design, programming and installation of complicated electronic systems is not really known by most audio shops. These shops are in business to sell equipment, not to design integrated systems, and the results can be complete contamination of your vehicle's electronics, and possibly voiding of your vehicle's warranty. We have the knowledge to install a system that will reliably function for many years of driving enjoyment.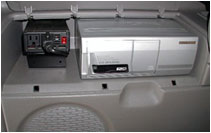 We can build radar scanning and radar protection into the vehicle so no one knows it is there.
We can also create a mobile office. Whether you desire an SUV that functions as an office-on-wheels, or a limousine, we can build the most intricate of systems.
And of course we will design and build an entertainment system that will possibly make attending movies and concerts a thing of the past.
Our experience and knowledge facilitates the expertise to develop the most custom of systems for any desire or need.